IMAGINE THE COMPLEXITY OF SPLIT TESTING MADE EASY. SO EASY A CAVEMAN CAN DO IT!
Imagine using ONE source of traffic to determine what style landing page converts!
Imagine just creating ONE campaign and split testing multiple variations of your landing page!
Imagine just using ONE link to split test multiple designs and layouts!
Dear Struggling Affiliate Marketer,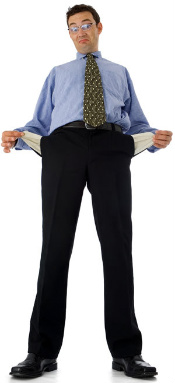 Are you tired of building landing pages in hopes they may not convert, not seeing any results and knowing that you might possibly have to recreate another one and then re-test it, meaning more wasted money!
You are not alone. When I first started with affiliate marketing, I would have to retest multiple landing pages until I found one that would convert, meaning wasted time!
Split testing is very important when it comes to landing page design. Does a simple landing page work better than a more complex version?
There are many things to test for, such as format, color, text, location of your call to action, images, etc. There are just too many criterias to test.
I personally needed a way to test multiple landing pages with Google Adwords, Yahoo Search Marketing, MSN adCenter, and multiple Social Networks without wasting money!
I eventually developed a very simple solution. I have been using it the last few months and it has done wonders in saving me time and money when it comes to split testing multiple variations of landing pages. The key to it all is know the power of WordPress and the ability to use it as a Content Management System platform.
WordPress is a very powerful CMS platform and its ability to create blog style landing pages, which is increasingly getting more and more popular.
Not to mention, WordPress has a very powerful backbone to it that involves plugins. For several months now, I have been using WordPress to split test multiple landing pages without spending a huge chunk of my money in multiple campaigns.
My Marketing Dilemma...
I asked myself if WordPress Blog Style Landing Pages work, why can't I create traditional review style jump pages? Why couldn't I create a simple look-a-like poll? Why wouldn't I be able to implement a simple bridge style landing page? Why...? Why...?
I decided to go ahead and start creating traditional landing pages via WordPress. The problem then became how I would be able to split test colors, font sizes, image location, context, and other criteria.
I was thought to myself, WordPress isn't all that powerful. How are so many Blog Style Landing Pages converting over without any testing?
I Asked Around...
I found out affiliates were wasting money on single campaigns by changing and updating their landing pages on a daily basis. Affiliates were constantly checking their real-time clicks and were 'on-call' to make real time changes. Many others were counting clicks, based on number of clicks they would change their landing page. Others were spending and wasting time on creating multiple campaigns for simple changes to their landing pages, wasting money on repeated traffic.
Most were stuck in front of their PC...
I thought, 'There has to be an easier way to test landing pages!'
The World's Best and First WordPress
Landing Page Jumper for Affiliate Marketers...
| | | |
| --- | --- | --- |
| | | "One of the biggest direct influences in developing a profitable PPC campaign comes from the process of split testing and improving your over all campaign click through rate and conversion rate by optimizing. LP Jumper is an excellent tool that combines the power of landing pages generated by Wordpress and simplifies the process of split testing to dramatically increase your campaigns performance in the easiest fashion possible. I highly recommend you use LP Jumper and you will see immediate results!" |
Andrew Payne - CashTactics.net
Imagine Having the Ability to:
Rotate Multiple Landing Pages from One Traffic Source
Find Out How Many Times the Specific Landing Page was viewed
Give Specific Priority to a Landing Page base on its Performance
Ability to Test your Current Landing Page Layout with Different Color Variations
Easily Create One Campaign and Utilize One Traffic Source to Test
With just a mere mouse click...

LP Jumper is an Affiliate Marketers Dream.

It is the key to split test multiple variations of landing pages without spending all of your time or money!
LP Jumper is a fast and simple way to split test multiple landing pages with just a mouse click. LP Jumper uses the current themes within your WordPress CMS platform and rotates them all via a percentage base. The simple user interface will get you up and running in under 5 minutes.
There is no programming needed. All you have to do is upload and activate. It's Easy, Quick, and Fast! By using the WordPress powerful plugin system, you can easily distribute LP after LP after LP with just one source of traffic. This gives you a better chance to leverage the traffic and find out which LP is performing better or worst. LP Jumper uses the power of WordPress to give you the results you've been seeking!

Serious Affiliate Marketers Know Testing is Key to Success!

| | |
| --- | --- |
| | Quickly Find Out What Customers/Users are Reacting to... |
| | |
| | Easily Split Test Multiple Themes/Landing Pages with One Traffic Source... |
| | |
| | Understand How Your Traffic is Responding to Each Different Style Landing Page... |
| | |
| | Discover Which Landing Page Performs Better than the Others... |
| | |
| | Prioritize Which Landing Page is Seen More based on Performance... |
| | |
| | Complete Answer to Test Multiple Landing Pages! |
| | | |
| --- | --- | --- |
| | | "The LP Jumper plugin is a really simple plug in, it's made so simple anyone can use it! What I have seen is it really helps boost the CPA sales because visitors that return to your site and they will see the new look which might complete an offer, not knowing that they have visited your site before due to the theme change. Highly recommend this WordPress plugin!" |

Nick Throlson - NickThrolson.com
| | | |
| --- | --- | --- |
| | | "I have always hated taking the time to create multiple landing pages just to split test color scheme and design. After spending a full day or two creating 2 or 3 only to find out none of them work, I stopped wasting my time. Using the plugin made split testing landing page design a piece of cake. Now I have much more time creating new campaigns instead of spending days on building one campaign. It's amazing to see how different landing page designs can have an effect on profits." |
Brian Johnson - browie.com
| | | |
| --- | --- | --- |
| | | "I've been working hard at affiliate marketing, and trying to grow my business. LP Jumper helped cut out a lot of the wasted time I had to spend on testing different landing pages and allowed me to spend more time on the more important areas of my business." |
Jeremiah Cooper - AFFPros.com
LP Jumper Features...
We know time is money, so LP Jumper Auto Populates all your themes within the WordPress Theme Directory. No Need to auto select or chose which themes to load, LP Jumper does this automatically.

Whatever themes are installed within your WordPress theme directory, LP Jumper will load all of them if its just 2 or 1,000 themes. It will load all of them in one shot.

In affiliate marketing stats are very important. Whenever a landing page is viewed it is marked as a view. Showing you stats in real time will give you the chance to see what themes are being viewed or were viewed.

You are also giving the ability to prioritize which landing page gets to be viewed more than others by providing a percentage to each theme or landing page.
| | | |
| --- | --- | --- |
| | | "LPJumper is a kick-ass plugin that produces real, measurable results every time. What I love about this plugin is it's simplicity. Super easy to use and install. I have been able to significantly reduce my time on creating other campaigns and also save a whole lot of time and money." |
Benny Tejeda - BennyTejeda.com
"One of the main reasons as to why I stopped doing PPC was because setting up multiple campaigns to test out different landing pages was just taking up too much time. With Ian's LP Jumper script, this would easily cut time spent on setting things up in half. When you spend that much time at doing something and still can't make money you get discouraged very quickly.

With LP Jumper I spend more time making money and less time working."
Jarret Cade - JarretCade.net
Find Out Which Landing Page Converts...
When you order LP Jumper, I Provide You with Tutorial on Tracking
What is the point of having this powerful WordPress plugin if you can't track your results?

This quick tutorial will show you the power of how to track LPs properly using FREE Tools and Services.

You Will Learn How to...

| | |
| --- | --- |
| | Use the Best Free Click Analytics System |
| | Implement Analytics within each LP |
| | Implement Unique Links to Each LP |
| | Read Analytics Base on Conversions |
| | Properly Prioritize LPs Base on Conversions |
| | Read and Understand LP Dynamics |
LP Jumper Pricing...
Having the ability to test multiple landing pages without a proper system can cost a marketer a hefty amount. Even hiring a programmer to create a similar system can cost you hundreds.
This WordPress plugin can do all they would and more. So how much will this plugin cost me? Since I have been using it for several months and have just decided to release it to the general public. I can easily charge $97 for this versatile plugin. But I would like you to jump start your earnings through affiliate marketing using my proven technique.
I thought to myself 'what would the traditional affiliate pay for such a versatile plugin'? I then thought, 'what would a beginner that is starting out pay for such an advance plugin'? The majority of the affiliate industry are all beginners and have no or little money to start out with.
Keeping in mind I decided to offer it for a limited time at a sale price of $27! This program is easily worth 4x that because of its versatility and the hundreds it will save you in time and money. Pretty soon the price will jump back up to the original cost f $97, so TAKE ADVANTAGE OF THIS DEAL TODAY!
But Before You Purchase...
I touched base with several of my affiliate marketing friends and they also would like to help you jump start your success. I told them about my little prize gem, 'split test WordPress plugin' and they were amazed at the simplicity of an idea and concept. They decided to jump on the bandwagon and offer FREE of CHARGE some of the products that helped them to their success as well - Pay it Forward if you will.
With today's purchase and I MEAN today
, you will receive these
Special Immediate Bonuses...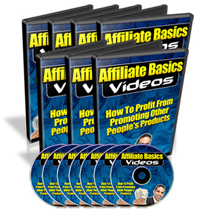 Affiliate Basics Videos
Video #1 - Introduction to Affiliate Marketing
This video walks you through the introduction of affiliate marketing. It also shows you where to find products to promote.
Video #2 -Promoting Through Articles
This video shows you how to use article marketing to promote affiliate programs.
Video #3 - Promoting Through Autoresponder
This video shows you how to use autoresponder messages to pre-sell affiliate programs to your list of subscribers.
Video #4 - Promoting Through Reviews
This video walks you through on how to use product review templates to pre-sell and promote affiliate programs effectively.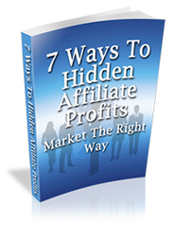 7 Ways to Hidden Affiliate Profits
7 Ways To Hidden Affiliate Profits is the eBook that you've been waiting for to boast your online income. If you have struggled to sell affiliate products in the past, then you know how valuable this book can be. Affiliate marketing can provide your business with a reliable channel of income month after month.

Effectively selling affiliate products doesn't require magic, voodoo or anything supernatural. Affiliate marketing doesn't need to be a complicated or complex process either, but it's important to remember that affiliate marketing is a business just like any other and to succeed you need to be pointed in the right direction. Let 7 Ways To Hidden Affiliate Profits guide you so you can learn things right the very first time.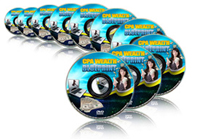 CPA Wealth Blueprint - Video Series
The CPA Wealth Blueprint is a course that will show you exactly how to profit from the CPA networks. By now, you are curious what you will learn in your step by step video course...
12 Powerful videos showing how to dominate and find top offers from a CPA offer from any network and how to properly promote them.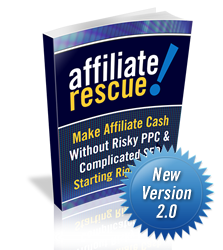 Affiliate Rescue
A full blown ebook course on how to start when you have almost no money: bankrupt, broke and on the run. Right now, you may be having financial difficulties. I will give you some smart ideas to get out of this unpleasant situation (without robbing a bank).

How to find affiliate programs to promote. You will discover the easiest ways to find affiliate programs worth promoting - as well as some little-known products that pay well but not many people promote.

How to promote affiliate products online – the right way. Let the controversy begin. I will show you how to "tinker" with the merchant's site and increase your affiliate commissions 100%, 200% or more. Some of these methods ain' pretty - but they work like gang busters...

So How Much is this Going to Be ALREADY!?!
For a mere $27, LP Jumper will save you many times its value in dollars of time and income over the long run. Save yourself all the trial and errors by benefiting from this offer and receiving the time sensitive bonuses!

You will be able to instantly download the WordPress plugin and start immediately using LP Jumper for your Affiliate Marketing Strategies. This will help you jump start your split testing with tremendous ease.

Did You Come From WP Beginner? Click Here!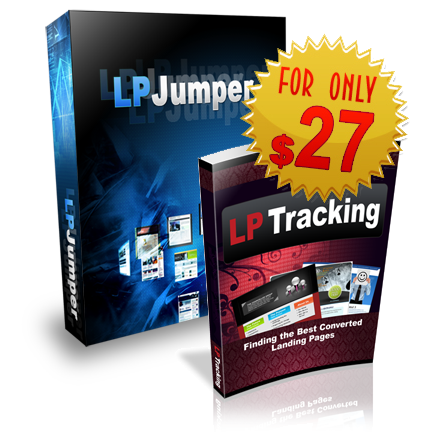 If you're ready to GET REAL and quickly split test multiple landing pages with ease, I encourage you to grab your copy of LP Jumper today! IT'S TIME TO REALLY watch your affiliate income grow!

I have shown you the potential .....
The rest is up to you!
To Your Success

P.S. - If you are still creating multiple campaigns to just test small changes, you are wasting money. LP Jumper uses the current traffic and helps you quickly determine the most profitable landing page.
P.P.S - As expressed in the testimonials - LP Jumper is super easy to use and install. You do not need to have any knowledge of WordPress, PHP, or any type of coding. Install, Activate, and start split testing your landing pages from your traffic sources!
This site and the products and services offered on this site are not associated, affiliated, endorsed, or sponsored by Google, Yahoo, MSN, or WordPress, nor have they been reviewed tested or certified by these sites
Note: this plugin does not rotate posts or pages! Only Rotates Themes Within Wordpress.